Donate Yourself extends reality, taking you on an augmented reality journey that introduces virtual, visual and sonic expressions of our organs, cells and body data. 
Throughout our lives, our bodies hold a hidden landscape of knowledge. In every breath, every heartbeat we produce a picture that can help scientists uncover the mysteries of humanity. 
After death our bodies hold a lifetime's experience that can become a collective gift of information to the next generation.
The digital objects you see through your phone and the audio you will hear alongside
will unfold stories of care, trust, immortality, consent and futures, asking us to think:
WHAT ROLE CAN OUR BODIES PLAY IN SCIENTIFIC DISCOVERY?
COULD WE SEE OURSELVES AS A COLLECTION OF CELLS?
DOES DONATING ORGANS OR TISSUE MAKE YOU IMMORTAL?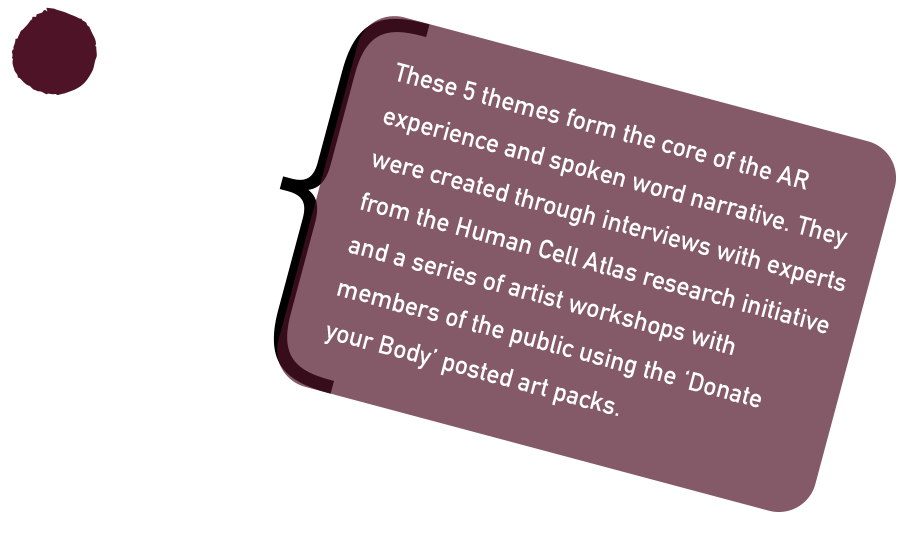 You are invited to join us on a guided tour of the artwork through the Ouseburn Valley in Newcastle: Eventbrite
'Donate your Body' Posted Art Packs
Post packs were designed in collaboration with members from the Human Cell Atlas to help the public to explore the meaning of body, tissue and data donation in their own homes, followed by an online group reflection.
These post kits revealed a range of questions and concerns about science, for example how funding is distributed for different medical conditions to research, the safety and privacy of digital donations and how we can bring scientific data to life! Alongside this personal stories about how to respect the dead during COVID-19 were shared and discussion about how to open up conversations about donation within multi-generational families and families that have different religious values.